#birkenstockbox
Master of subtle overstatement
Rick Owens is simply impossible to pigeonhole. It's hardly surprising, then, that the iconic US fashion designer is the first independent designer to produce a limited-edition collection for BIRKENSTOCK. In keeping with Owens' uncompromising post-apocalyptic design aesthetic, he chose four different materials to give the footwear company's classic Arizona, Boston and Madrid styles a "subtle touch of theatricality". Eschewing overloaded, frivolous embellishments, he chose instead to push the envelope of the design itself, noting that "The functional design that's already there can't be improved on". Instead, Owens extended the straps and holes of the sandals to allow them to break free from their conventional function.
Surfaces that explore new depths
Owens, who first achieved global fame over twenty years ago with his distinctive asymmetrically cut leather jackets, is passionate about good materials. His use of felt in his designs paid homage to German artist Joseph Beuys, whom Owens has admired for years. He cites a connection with BIRKENSTOCK's natural vibe as the basis for his new work with the traditional German footwear brand.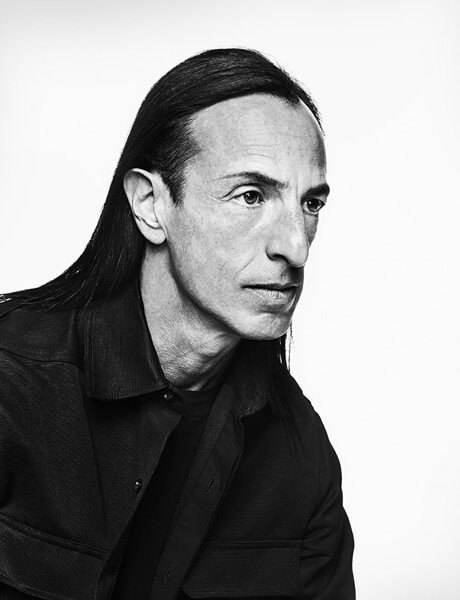 Credit: Rick Owens by Danielle Levitt
Fashion oeuvre
Rick Owens is probably the ultimate figurehead of cerebral fashion. Born 1961 in California, he first studied art before abandoning his studies and embarking on an apprenticeship as a tailor. Success was not long in coming; Owens numbered Anna Wintour, editor of US Vogue, among his earliest patrons. In 2001, when top model Kate Moss was shown wearing one of Owens' jackets in a fashion feature, his fame exploded. Two years later his brand relocated to Paris, where Owens has staged four shows of his unorthodox, mystical fashion every year since 2003.
To this day, the designer approaches fashion as a Gesamtkunstwerk––a totality of complementary elements that feed off each other. His collections repeatedly focus on the role of human beings in society, using his fashion shows as a stage for political statements. While his color palette has lightened over the years, black is still the world where he feels most at home. His pieces defy all trends, deftly morphing bodily lines and questioning their conventions.
2017 was a standout period in the history of Owens' empire, which spans furnishings, accessories and jewelry; the year when Owens received the CFDA Lifetime Award and the city of Milan announced a retrospective of his work. Rick Owens' success continues – with his limited collection for BIRKENSTOCK.
From Paris to the West Coast
The collection, created as part of BIRKENSTOCK's Box project, can be ordered online and will hit the BIRKENSTOCK Box from April 17. The Box, a pop-up store which has already made stops in Berlin, New York, and Milan, will travel to Owens' home city of L.A. from April 17–21 to debut his designs in front of the Rick Owens Store on La Brea Avenue. Owens designed the space, incorporating own furnishings and accessories plus ready-to-wear pieces created especially for the project––a hands-on approach which neatly reflects the personal philosophy of an artist who would design the road from his house to the gym if only he could.
Find out more about what's behind the styles in the limited collection,
where to get them, and what else the designer has in common with BIRKENSTOCK.