With global headquarters, production and logistics based throughout Germany, Birkenstock footwear is sold in approximately 90 countries worldwide. Birkenstock has been sold in the U.S. for 50 years with U.S. sales and service based in Novato, CA.
HISTORY & HERITAGE
At Birkenstock, tradition and heritage are important hallmarks of a brand that dates back not years or even decades, but centuries. Birkenstock is deeply rooted in the fine art of crafting premium quality shoes that are good for you. Since 1774, Birkenstock has passed this commitment down from one generation to the next. The result is the absolute best in quality, comfort and support.
Click here
to learn more.
TRADITION SINCE 1774
1774 - Johann Adam Birkenstock is listed as "subject and cobbler" in the church archives of Langen-Bergheim, Germany
1896 - Master cobbler Konrad Birkenstock begins manufacturing and selling flexible footbed insoles
1902 - Konrad Birkenstock develops the first contoured arch support.
1925 - The "blue footbed" is among the products manufactured at a newly-opened facility in Friedberg, Germany
1932 - Carl Birkenstock launches the Birkenstock training courses and the "Carl Birkenstock System" is endorsed by leading physicians and podiatrists
1964 - Karl Birkenstock launches the Madrid model, the first fitness sandal with a deep and flexible footbed.
1966 - Birkenstock is introduced into the U.S. market.
1988 – Environmentally-friendly adhesives are used in production – setting a new standard for environmental awareness worldwide.
1990 - Production is expanded and modernized to reduce energy consumption by over 90%.
2009 – A new and bigger footbed production facility becomes operational in Gorlitz, Germany.
2016 – Birkenstock celebrates 50 years in the U.S.
Our Footbed
The original is also the most extraordinary. At the heart of every Birkenstock sandal, clog, boot and shoe is the footbed that started it all. That's right, Birkenstock invented the contoured footbed, introducing the concept in the 1930s for anatomically shaped insoles with incredible support. Since then, many have tried to copy the idea, but there is only one that can proudly bear the Birkenstock name.
FEATURES & BENEFITS
Nothing compares to a Birkenstock footbed. Step in and experience for yourself the unrivaled comfort and support.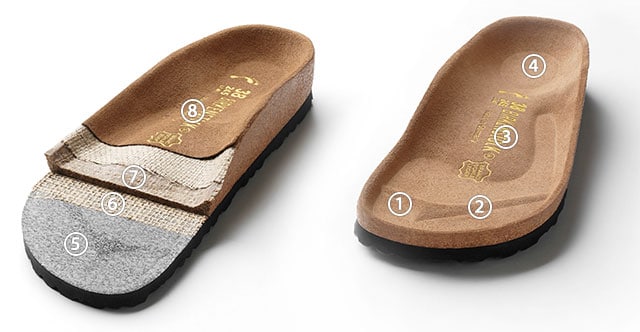 1 - MORE TOE ROOM
Allows toes to move naturally, which promotes better balance and correct foot alignment
2 - RAISED TOE BAR
Encourages natural gripping motion of your feet
3 - CONTOURED FOOTBED
Four arches ensure even weight distribution and proper posture
4 - DEEP HEEL CUP
Cradles the heel and keeps natural cushioning right under the heel bone
5 - SHOCK ABSORBING SOLE
Flexible, durable and lightweight
6 - JUTE FIBERS
Two layers – one wicks away moisture, the other adds strength
7 - CORK FOOTBED
Firm, resilient cork/latex base for maximum support
8 - FOOTBED LINER
Soft suede keeps your feet comfortable and dry
SOFT FOOTBED
It's simple - all the goodness of our classic Footbed with an extra layer of cushioning foam inserted between the suede footbed liner and the layers of cork and jute below.

1 - SUEDE LEATHER LINING
2 - EXTRA LAYER OF FOAM
3 - UPPER JUTE LAYER
4 - CORK-LATEX CORE
5 - LOWER JUTE LAYER
6 - EVA OUTSOLE
BLUE FOOTBED
Enjoy Birkenstock comfort in any closed toe shoe.
1. Thin and flexible for a high level of comfort and support.
2. Cradles the heel and keeps natural cushioning right under the heel bone.
3. Proper support for under the balls of the feet, the transversal arch and the lateral stability.
4. Precision-molded cups support the longitudinal arch and guide the foot through its natural rolling motion.
EUROPEAN CRAFTSMANSHIP
How things are made matter as much as the product itself. At Birkenstock, we're proud of our roots, our history, our DNA. That's because our products are made with deep respect for German and European standards for ethical, social and environmental responsibility. This tradition, quality and craftsmanship is what sets Birkenstock apart, and has since 1774.
Click here
to learn more about our production.
PREMIUM MATERIALS
Simple yet refined. Birkenstock sets the standard for comfort, quality and functionality, and it all starts with our carefully selected, high-quality materials from sustainable sources.
FOOTBED
The original, iconic Birkenstock footbed is known for its high-quality natural materials: cork, latex and jute.
Cork is perhaps the most recognizable component of Birkenstock. Did you know that "cork" is actually the outer bark of a cork oak, and regrows every 7-10 years after harvesting? The cork used by Birkenstock comes from production overages of the wine and bottling industries. Rather than going to waste, Birkenstock repurposes this precious natural resource as a primary material of its footbed.
Natural latex is used along with cork to give the Birkenstock footbed its flexible, supportive qualities. Like cork, natural latex is also a renewable resource, obtained from the resin of rubber trees.
Jute is another natural, renewable material that's an integral part of the Birkenstock footbed. Moisture-wicking fibers provide sturdy structure above and below the core cork-latex.
UPPER MATERIALS
Top quality leathers and synthetic materials ensure a premium-level all-around product.
Natural leather can be recognized by its untreated surface. Birkenstock does not treat surface grains and other natural characteristics, leaving every piece unique.
Patent leather is coated with paint or plastic to give it its notable high gloss shine.
Suede is a general term for leather that has been buffed on the inside. It has an unfinished yet soft surface.
Nubuck is a top-grain leather with a softly-buffed surface. Because of its fine fibers, nubuck is sensitive to moisture and color, and a surface treatment may be recommended for extra protection.
Wool felt is made from merino wool, a high-quality natural fiber that is gentle on the skin and breathable.
Felt is a thick material made from synthetic fibers. Birkenstock felts are highly durable, and at the same time comfortable, breathable and soft to the touch.
Birko felt is made from a blend of rayon and synthetic fibers.
Birko felt nubuck is a synthetic material that looks and feels like nubuck leather.
Birko-Flor® is a high-quality synthetic material. The upper layer is an easy-to-care-for PVC. The lining is a soft, breathable fleece that's comfortable next to the skin.
Click here
for more information on our premium materials.
In The News
Careers
Our business is a reflection of who we are. We have passion for our products, an appreciation of their heritage and a genuine belief in their benefits. At Birkenstock, we represent quality products that are comfortable, unique, timeless and respectful of the world around us.
In order to provide best-in-class products and service, we need quality people. We are looking for talented people who share our values of accountability, responsiveness, excellence, teamwork, respect and integrity.
Current Opportunities
BIRKENSTOCK USA LP IS AN EQUAL OPPORTUNITY EMPLOYER.